Special Performance Group
The Special Performance Group is conducted by Jacqui Simmonds on a workshop basis for dancers to work as an ensemble with Jacqui to create short contemporary-based performance works for displays at Australian Dance Week, Dance Kaleidoscope at Belconnen Arts Centre, and other suitable occasions. Times will be as advised – make sure you get the CDT e-news and check the Classes page.
House Parties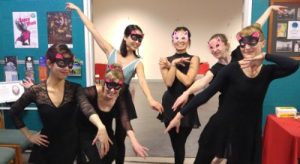 CDT doesn't do concerts, eisteddfods or competitions. Twice a year we hold a House Party in the studio where all classes can come together, meet, celebrate what they do and show off to each other. It's an open event so all are welcome and we put on a great show. Expect to see up to 20 short presentations and performances. July and December each year.
Photo: Ballet intermediate from the 2017 July Winter House Party, and we really have no idea who these people are… possibly.
The GOLDS
T

he GOLDs are an exciting and creative CDT dance class and performance group for movers and non movers who are over 55. The focus is on fitness, mobility, sociability and creativity. The GOLDs are an amazing group of people who live in Canberra and come from all walks of life. Some have danced since childhood and some are completely new to dance. We only ask that they are over 55, have a sense of humour and community. No prior experience necessary, although CDT may organise a basic introductory movement class if needed.

The GOLDs class was originally part of a ten week performance project for over 55s in early 2011, in association with the National Library of Australia and Belconnen Arts Centre, and supported by the ACT Government under the ACT Health Promotion Grants Program. But everyone had such an excellent time they continue to explore movement and choreography to stimulate heart, mind and soul. Key dates for 2018 Semester 1 are here.

GOLDs Performance Works
2011   Air Kiss – Glen Murray; Indian Light – Liz Lea
2013   Pop Art – Liz Lea; The Incense – Liz Lea; Chromosome 16 – Meg Milland; Existence – Jane Ingall; Dewi Ratna – Jade Tyas Tunngal; Black GOLD – Tammi Gissell
2014   Something to Remember – Stephanie Burridge
2015   Group One – Glen Murray; Three Gunnas – Dr Elizabeth Cameron Dalman OAM
2016   Annette – Liz Lea; Grand Finale – Martin del Amo; None of us want to be in calm waters all our lives – Kate Denborough; First and Last – Gerard van Dyck
The GOLD Choreography page can be found here (password required).
Fabulous Fan Dancers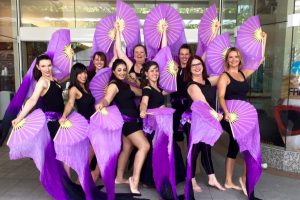 Jazida's Fabulous Dancers are a performance troupe that have developed through weekly classes at the Canberra Dance Theatre. They have a wide repertoire of choreographies written by Jazida, winner of the title of Miss Fantastic at the Miss Burlesque Australia competition in 2016 for the best fan dancing. The troupe is inspired to use feather fans and silk fan veils in a wide range of creative ways and takes influence from bellydance, burlesque, jazz, circus, fire, water and so much more. Acts feature work with single fans, double fans, open and closed fan as well as lots of fun staging.
The fan veil troupe prides itself on containing a variety of performers – several of whom are star solo performers in their own right. Ages range from teens to 50s and sizes from small to large! This troupe demonstrates that anyone can have a wonderful time with a set of fans to dance with!
More information here about the troupe and much more information here about Jazida's classes at CDT.
CDTeens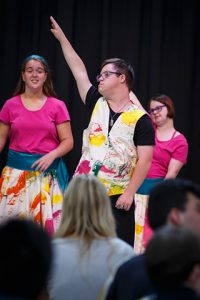 CDTeens perform at a number of events each year including the BOLD festival, Australian Dance Week, I-Day, and Dance Kaleidoscope. Performers come from the CDTeens class, which is age appropriate, energetic and creative dance for children and teenagers with additional needs. Fun and active classes that provide a range of movement and dance activities.