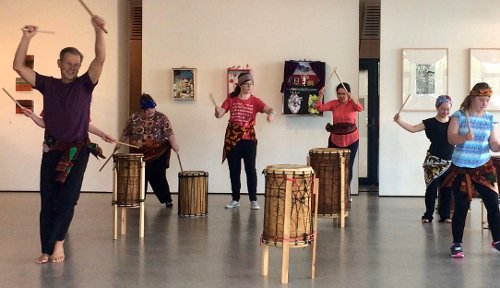 Canberra Dance Theatre established the CDTribe program in August 2008, initially supported by an ArtsACT grant and taught by Gretel Burgess and Adelina Larsson. CDTribe was previously known as the CDTeens program.
CDTribe are young people (12+) with additional needs who meet on Saturday mornings to participate in a class that combines dance technique with creativity. With a focus on having fun, participants explore movement to work on their fitness, coordination, memory and problem solving skills. Parents and carers are welcome to join the class.
Over the past ten years, CDTribe have created and learned a wide variety of dances in a range of dance styles and have worked with several visiting choreographers. CDTribe regularly perform at many public events around Canberra, including Dance Week, Floriade, the Multicultural Arts Festival, CapExpo and events celebrating I-Day.
Recent works and performances
Today I Am
Choreography: Gretel Burgess
Music: Life's Adventure by Tim Myers, A Small Blue Thing by Suzanne Vega.
Premiered at the National Portrait Gallery, Saturday 22 October 2022 as part of Out of the Frame. Also performed for Australian Dance Week 2023 on Sunday 7 May 2023.
Titanium
The 2018 work Titanium was developed under the guidance of Gretel Burgess and Amy Macris. The work is about finding our inner strengths and passions and discovering our own inner super heroes, helping us to feel strong and empowered in our daily lives.