Great Sport! wins the 2017 Australian Dance Award for Outstanding Achievement in Community Dance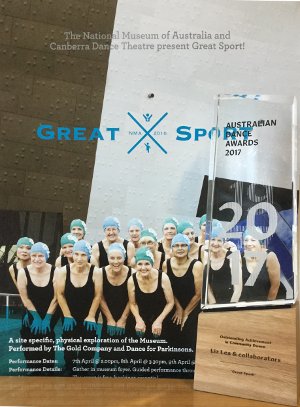 Great Sport! was presented at the National Museum of Australia in 2016 as the final work of CDT's then Artistic Director Liz Lea. Congratulations to Liz Lea; Philip Piggin, Jane Ingall; the other choreographers; and all the GOLD and Dance for Parkinson's performers who made this wonderful event possible. The Trophy was awarded to 'Liz Lea and Collaborators'. Our congratulations also go to separate shortlistings to QL2 Dance for Outstanding Achievement in Youth Dance, and a personal shortlisting of Philip Piggin for Services to Dance. Philip is also a teacher at CDT and is based at Belconnen Arts Centre.
Great Sport! was made possible by the generous support of the National Museum of Australia and was produced by Canberra Dance Theatre with funding from ACT Health Promotion Grants and ArtsACT Project Funding, with additional support from Parkinson's ACT and Belconnen and Tuggeranong Arts Centres. The project was auspiced by Ausdance ACT and CDT acknowledged the generous support of the National Film and Sound Archive.
Great Sport! works
Acknowledgement of Country
Tammi Gissell.
Annette
Choreography: Liz Lea with the GOLD company.
I used to run marathons
Choreography: Philip Piggin and Jane Ingall, assisted by Debora di Centa.
Grand Finale
Choreography: Martin del Amo.
First and Last
Choreography: Gerard van Dyck.
None of us want to be in calm waters all our lives
Choreography and director: Kate Denborough.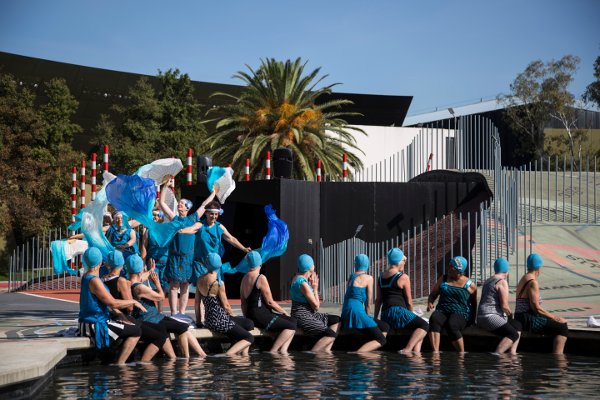 Great Sport! performers
GOLD: Sue Andrews, Greg Barrett, Jean Bennett, Vilaisan Campbell, Doug Capp, Graeme Collin, Pam Diver, Denise Druitt, Edna Dundas, Megan Flynn, Jill Fraser, Anne Gardner, Charmaine Hallam, Boronia Halstead, Gemma McKeown, Glenys Harris, Mary Hinchey, Merilyn Jenkins, Jane Keogh, Carol Mackay, Lynne McVeigh, Emely Mills, Luke Mulders, Penny Richards, Joy Roberts, Diana Sandeman, David Turbayne and Margaret Vincent.
Dance for Parkinson's Belconnen: Philip Piggin (teacher, assisted by Debora di Centa). Performers: Chris Bedloe, Janet Bedloe, Andrew Eagles, Margaret Healy, Elaine Hollings, Martin Moult, Anne Ots and Joe Ots.
Dance for Parkinson's Tuggeranong: Jane Ingall (teacher). Performers: Jenny Galley, Marilyn Nelson, Richard Newman, Jan Robbins and Glennys Steer
Great Sport! directors: Liz Lea, Jane Ingall and Philip Piggin.
Compere: Liz Lea