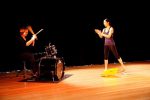 CDTeens Winter Workshop 8/9 July
CDTeens
This workshop will focus on the relationship between sound and movement. Participants will explore complementary dance and music concepts such as tempo and dynamic, and how these can be used together. They will explore the differences between dance led by music, and music led by dance, and the relationship between dancers /choreographers and musicians /composers. Participants will also create their own percussion-based music and their own short dances, with a focus on connecting movements and sounds.
About the facilitators                 
Amy has been teaching dance for over seven years, teaching a range of dance styles and age groups in studios; taught in primary schools and choreographed for school productions; and led programs for young people with disabilities. She also taught the CDTeens class from 2013-14. She holds a Bachelor of Arts with a major in Education, and has worked as a Learning Support Assistant to students with disabilities.
Michelle has been teaching music for over ten years, teaching drum-kit and hand drumming for all ages and in schools; facilitated music classes for people with disabilities and for youth in out of home care; and directed a rock program for teenagers. She is currently studying Community Services and Mental Health.
Amy and Michelle have co-led music and dance workshops for people with and without disabilities, for children with disabilities, and for people with hearing impairments and deafness. They are both passionate about inclusive and community-focused arts programs, and love working with people.
Sat 8 July: 10.00-3.00pm including a 1 hour lunch break
Sun 9 July: 12.00-4.00pm including a 30 min tea break and the last 30 minutes of Sunday will be a showing for parents
Cost $80 – please confirm early to avoid disappointment – this is an open workshop for CDTeens and other young people with extra needs. One of the regular CDTeens teachers will also be in attendance. Amy and Michelle will be creating dance and sound that can be taken forward to create a new performance.