January 2019 Holiday classes at the CDT Studio
The full class schedule starts Tuesday 29 January, but we know some people can't hang out until then so we have Katherine Harper with Open Ballet classes at 6pm on Tuesday 15, Thursday 17, Tuesday 22, and Thursday 24th January.
2019 class prices, dance cards are ok, but All You Can Dance Cards do not apply for these classes.
Bookings for workshops: email canberradancetheatre@gmail.com or call 0435 025 365. Workshop fees can be paid directly to CDT's bank account: Canberra Dance Theatre BSB 633-000 A/c 138404199. Please email details of the transfer to office.canberradancetheatre@gmail.com
Past Workshops

15 November 10am to 4pm Ken Spiteri workshop for GOLDs: Born in Melbourne to Maltese parents, Kenneth has worked in film, theatre and sound internationally. Trained at L'Ecole Internationale Jacques Lecoq and with Pantheatre in Paris, he has completed dramaturgical studies with the WIW Akademie, Berlin. In Australia he has worked as an actor with state funded theatre companies in Canberra as well as the Melbourne Theatre Company and most recently with the Sydney Theatre Company on Garcia Lorca's, "Blood Wedding".
1 November 2018 Gail Hewton for GOLDs: Gail is passionate about transforming older people's lives through the joy and many benefits of dance as well as sharing her knowledge and experience with other practitioners.  More info – www.ripedance.com.au

8 & 9 September 2018 Fusako Skelton Ballet Workshop: we were able to tempt the fabulous Fusako Skelton to return to CDT to create the joyful new Ballet work A Maze In Day set to contemporary music for CDT's 40th Birthday production. Fusako trained at the Bolshoi Ballet School before her international career and she now runs her own ballet studio Ballet Masters GC.
7 & 8 July 2018 Winter Weekend Workshop for Teens and Young Adults with Special Need: Drumming and Rhythm! with Luke Mulders & Jacqui Edmondson
This workshop for teenagers and young adults with extra needs explored rhythm as an energising element for daily living. With reference to the "Teens" 2017 winter workshop (where body percussion merged with dance), they used drums in the style of West African music and dance in conjunction with drumming to express the interplay of music with dance in this exploration. Participants had the opportunity to find life examples of rhythm for them personally. The workshop culminated in an opportunity to present a closing performance for their families.
3 June 2018: Inclusivity in dance classes. A professional development workshop for dance teachers working with people with disabilities. Free for all CDT Teachers and Members, 9.45am – 5.00pm at Canberra Dance Theatre, corner of Kingsley Street and Barry Drive, Acton. CDT's studio and facilities are accessible for people with disabilities. If you teach dance to people with a range of abilities then this workshop was for you. CDT lined up an impressive group of dance teachers to guide and inspire you in planning and delivering inclusive dance classes. The workshop is designed for dance teachers working in studio, educational and community settings. Adult dancers with a disability who are interested in teaching dance but may not yet have taught are particularly invited to attend. The content to be covered is relevant to all styles of dance. Presenters include: Philip Piggin, Gretel Burgess, Gabriele Green Ola, Amy and Michelle Forman, and Jacqui Simmonds. This workshop was supported by a grant from the ACT Government.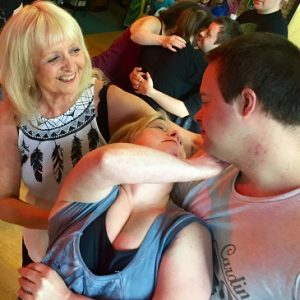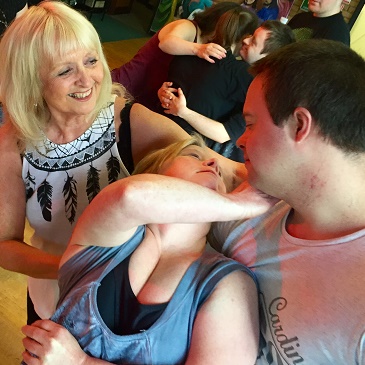 January 2018: Carol Brown GOLD workshop: Carol conducted a 6-day Choreographic Workshop and re-created a work on the GOLD group. Carol is a renowned freelance community dance artist, consultant, facilitator, trainer, choreographer, producer, presenter and lecturer, based in Wales, UK. She has led community dance in the Swansea Bay area for 30 years, creating countless productions on professional and community casts of up to 300 people in community settings, theatres and on television. Check out some of her work as Director of TAN Dance.
December 2017 : Dr Elizabeth Cameron Dalman OAM special workshops: Elizabeth is a prodigious figure in Australian contemporary dance. Most recently seem performing played the role of the Mother in Teac Damsa's (House of Dance) reinterpretation of Swan Lake, she brings an extraordinary wealth of dance experience and teaching to CDT. Her bio is here.

July 2017 Teacher PL with Oliver Ransan-Elliot: We were very fortunate to have Oliver as our teacher for the afternoon. Oliver is an experienced physiotherapist and Pilates instructor with a background in dance – he was a dancer with the Australian Ballet Company and the West Australian Ballet Company. He has a special interest in rehabilitation for dancers. Oliver is well qualified to offer us an expert perspective on the topic of our workshop: biomechanics and dance.
Spring 2017: Elizabeth Cameron Dalman for Contemporary, Ballet with Katherine Harper
Winter 2017: Alison Plevey with Contemporary Dance Technique, Dominique Wood Ward with Ballet and Contemporary
Autumn 2017: Tara Chapman with Ballet, Olivia Fyfe with Contemporary
Summer 2017: Three amazing teachers. Laura Pearce (week 1) and Sally Pinder (Week 2) taking Ballet, and the extraordinary artists and dance teacher Dr Elizabeth Cameron Dalman OAM for Contemporary both weeks.
CDTeens 2017 Winter Holiday workshop with Amy and Michelle Forman