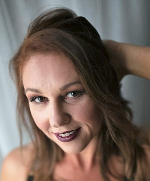 Rachael is one of Australia's leading Hilal Dance practitioners, beginning her studies with dance founder Suraya Hilal in 1997.
Rachael assisted in establishing Hilal Dance in Australia through her own teaching and through organising workshops for European based master artist Suraya Hilal in Canberra, Sydney and Melbourne.
Rachael has taught dance classes for over 25 years, and her aspiration continues to be for participants to finish class on a high, having connected with their bodies through an enjoyable and energetic learning encounter.
Rachael ran independent classes for 18 years at Gorman House and Belconnen Arts Centre and has been a teacher through Canberra Dance Theatre since 2009. Rachael was also a board member for Canberra Dance Theatre from 2009 – 2015.
Rachael has facilitated inclusive dance classes for the Belconnen Arts Centre Room to Move series and presented at the BOLD Festival, the Arts Up Front ACT Arts Education Conference, taught taster classes in schools and worked on intergenerational projects.
Rachael has over 28 years performance experience across several dance disciplines and has worked on interdisciplinary projects with visual and music artists. Her choreographic catalogue includes work for Canberra Dance Theatres 40th Anniversary season at the Street Theatre (2018), site specific performances in collaboration with visual artist Hannah Quinlivan at the National Portrait Gallery (2017, 2016), M-Contemporary, Woollahra NSW (2016, 2014), M16 Gallery (2014) and the School of Art, ANU (2013), DAncescieNCE festival CSIRO.
In 2013 Rachael joined the Hilal Dance Company to perform Alkimia at the Tanzhaus NRW Dusseldorf, and co-ordinated Hilal Dance Australia's 10 Year Anniversary bringing in Australian Hilal Dance artists from around the country.
In 2011 and 2012 Rachael secured consecutive Artist in Residence opportunities with Belconnen Arts Centre (BAC) and worked with the Hilal Dance Company in the development and performance of the program Alchemy (Alkimia). Rachael's choreographic work was included as part of the Australian program. In 2011 Rachael secured a performance development opportunity for Hilal Dance Australia's work Fragments as part of the Ballet Russes Exhibition program at the National Gallery of Australia.
Prior to training in Hilal Dance, Rachael choreographed and directed full length middle eastern dance productions at Tilley's, the School of Art and the Canberra Courtyard Theatre and participated in performances for theatrical productions A Midsummer Night's Dream (the National Shakespeare Festival), the Wandering Nightingale by Jamshid Malekpour (Multicultural Festival), and Splinters production of Faust.
Rachael has also frequently choreographed for and performed at the Multicultural Festival, Floriade, the National Folk Festival, media launches for Ausdance and the opening of the Canberra Museum and Gallery. Rachael was invited by the Egyptian Embassy to develop works and perform with Egyptian troupe El Tannoura.
Rachael believes in dance being a lifelong practice and continues to expand and consolidate her knowledge of body integration and training through regular workshops online and in person in Australia and abroad.