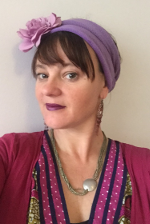 Gretel Burgess completed two years of a counselling degree before transferring to a Master of Social Work, completed in 2015. Gretel also has a Bachelor of Arts in Communication – Theatre Media, and a Certificate in Cultural Theatre and Dance from the Indonesian Art Institute of Pandang Panjang, West Sumatra.
Gretel combines her background in the arts and health sectors, having worked with many different groups including asylum seekers on Christmas Island, the Multicultural Council for Refugees in Darwin; and adults, children, and young people with special needs in Canberra.
Gretel has facilitated a STEPS program for adults with stroke and acute brain injury through Queensland Health, as well as dance and drama programs for both ARC disability services and the aged care sector in Cairns, Queensland.
Gretel has worked in many roles in Canberra including facilitating an arts-based program for the Messengers Program for disengaged teenagers at the Tuggeranong Arts Centre and parenting programs including Tuning Into Teens at Radford College. Gretel has taught for the Dance for Wellbeing program for all mobility levels, dementia, and Parkinson's. Gretel has been working over the past five years in primary and high schools as a social worker and school counsellor.
Gretel currently teaches dance for Ignite, and at Belconnen Arts Centre with the Deaf Butterfly dance group, DeafACT. Gretel is also on the board of Canberra Dance Theatre (CDT), works as a guest teacher for the CDT GOLD over 55-year-old dance class, and teaches CDTribe workshops for children and teenagers with additional needs.
Gretel combined her passion for the arts and health to create a lived experience, three act dance theatre piece with her daughter. She premiered A Stroke Of Luck over three nights at the QL2 Theatre in February 2023.