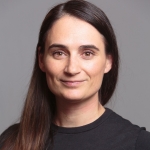 Amalia Hordern
Amalia's association with CDT began in 1993 with an invitation to dance with the company from then Artistic Director Stephanie Burridge. She had numerous roles created for her which were performed both locally and internationally.
During this time Amalia was a founding member of Direct Current dance Collective, performing in many works by company members and other established choreographers. Amalia completed a BA at the ANU then a Grad Dip in Arts Management through the University of South Australia.
In 2002 Amalia assumed co-directorship of CDT and choreographed many works for the company. She continued to perform, being featured with Stopera, Mirramu Dance Company, and Cadi McCarthy and Company.