HAPPINESS IS… 40 Years of Canberra Dance Theatre
The Street Theatre 12, 13, 14 October 2018.
It was 40 years ago today… in 1978 Canberra Dance Theatre was born, and we celebrate the diversity of our dance community with a sumptuous evening of dance, served with a generous dash of happiness!
Join CDT as we look back at our vibrant history and imagine the future, with highlights from past artistic directors and brand new works including Happiness Is…, an hilarious and visceral new work developed with Emma Saunders, which takes the theme of joy and happiness to the extreme.
With special guests, Stephanie Burridge, CDT's founding Artistic Director, with the gothic romance-inspired Mist, and special friends Patrick Harding-Irmer and Anca Frankenhaeuser.
Also featuring:
New contemporary ballet from Fusako Skelton
The quirky and delightful Annette from Great Sport (winner Australian Dance Award 2017) by Liz Lea (Artistic Director 2010-2016)
The Green Fuse by international choreographer Carol Brown with the GOLD group
The Pamoja solo by Amalia Hordern (Artistic Director 2002-2006)
The River Woman solo from Dr Elizabeth Cameron Dalman for CDT dancer Amanda Tutalo
New from the Fans & Veils by Jazida (Miss Burlesque ACT 2016) and CDT dancers
New Hilal Dance
And more!
Tickets $35, $30 Members & Concessions, $18 Children under 16 (* transactions fees at The Street apply).

The Happiness Is… creator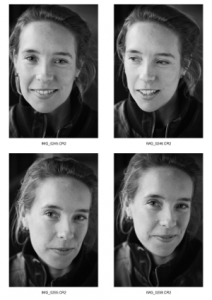 About Emma
Emma Saunders is a Sydney based artist who works as a dancer, curator and choreographer. She is interested in the simplicity of dance and the complexity of choreography. Using a visceral, instinctive attack, her work is immediate, often working with humour, everyday movements, repetition, duration and abstraction. She believes dance has its own innate logic and meaning within the broader landscape of theatrical and contemporary art practices and people's everyday lives.
Emma is a co-founding member of award winning Sydney based dance trio The Fondue Set with whom she created and performed 8 full length dance works and performed in nationally and internationally. As Dance Curator for Campbelltown Arts Centre (2009-2012) Emma curated and produced a series of significant new contemporary dance projects that examine community, location, exchange, culture, age and the interdisciplinary nature of making dance work. For Sydney Festival 2015, Emma was commissioned to create two new street based large scale community dance projects as part of Bankstown: LIVE. She engaged over 50 Vietnamese community participants to create her own new ballroom dance and a new Hokey Pokey for the 21st century.
Currently, Emma is Associate Artist 2017/2018 for NORPA (Lismore) and lectures in Performance Making at the University of Wollongong. Supported by Wollongong City Council, she is currently creating The Austinmer Dancing Project – a large scale, intergenerational, inclusive, en masse site specific project for New Year's Day 2018. She is also in development to present Dancing With Myself – her new solo dance work for FORM Dance Projects to be premiered in December, 2018.
Supported by The ACT Government