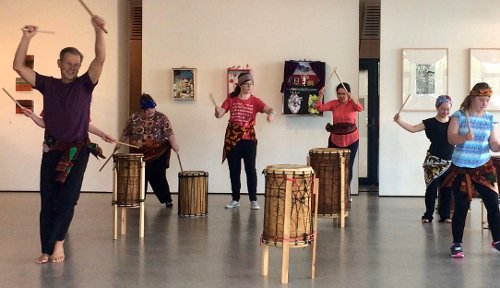 Winter Weekend Workshop for Teens and Young Adults with Special Needs
CDTeens
Drumming and Rhythm!
7th & 8th July 2018
Each day: 10.00 am – 12noon, 1.00-3.00pm with Luke Mulders & Jacqui Edmondson
Everyone has a heartbeat. The act of walking requires one to be momentarily off-balance and continue in rhythm.  Most people take over 15,000 breaths per day – the circular rhythm of breath. The natural world is governed by the rhythms of day/night, the seasons, our yearly trip around the sun, the life cycles of insects, flowers and so on.
We will be exploring rhythm as an energising element for daily living. With reference to the "Teens" 2017 winter workshop (where body percussion merged with dance), we will be using drums in the style of West African music. We will use dance in conjunction with drumming to express the interplay of music with dance in this exploration. Participants will have the opportunity to find life examples of rhythm for them personally. The workshop will culminate in an opportunity to present a closing performance for their families.
Luke is a percussionist/dancer  associated with CDT for over 7 years.  He has been developing his West African drum & dance for over 20 years under the tutelage of Mohamed Bangoura (Sydney based Griot from Guinea). Recently Luke has been incorporating more contemporary styles into his repertoire. With Amy Macris, Luke has been teaching the CDTeens during 2016-2017. He is a qualified Secondary school teacher and his current "day job" is guiding & teaching visitors in a local science centre.
Jacqui has been an enthusiastic player/performer of West African drum & dance for over 7 years. She has participated in many local drum & dance multi-day workshops in Australia with world-renowned artists and has danced in community events. Jacqui has also been on an extended drum & dance study tour in Africa. Outside of drum and dance, she is currently working as a tutor and studying to be a physiotherapist.
Cost: $80 (Early Bird by 28 June) or $110
Bookings: email canberradancetheatre@gmail.com or call 0435 025 365