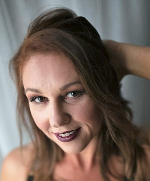 Rachael Hilton
(Zumba Instructor 2015, Hilal Dance Diploma 2010, Certificate in Dance Teaching, QUT 2005)
Rachael is one of Australia's leading Hilal Dance practitioners. She began her studies with dance founder Suraya Hilal in 1997.
Rachael's aim is for students to be as passionate and enthusiastic about Hilal Dance as she is. With over 21 years dance teaching experience, Rachael's aspirations for her students are to finish a class on a high, feeling like they've connected with their bodies and had a workout through an enjoyable and energetic learning encounter. Rachael ran independent classes for 18 years in the ACT at the Gorman House and Belconnen Arts Centre and now teaches through Canberra Dance Theatre. In addition she has facilitated inclusive dance classes for the Belconnen Arts Centre Room to Move series (2013-2017) and presented at the Arts Up Front ACT Arts Education Conference, ANU.
Rachael assisted in establishing Hilal Dance in Australia through her own teaching as well as being a key organiser of workshops with master artist Suraya Hilal and other senior Hilal Dance teachers.
Rachael has over 25 years performance experience across several dance disciplines. Her recent work includes site specific performances in collaboration with visual artist Hannah Quinlivan at the National Portrait Gallery (2017, 2016), M-Contemporary, Woollahra NSW (2016, 2014), M16 Gallery (2014) and the School of Art, ANU (2013). In 2014 Rachael was involved in developing green screen sequences for the Sharjah Islamic Culture Capital Oratorio UAE, produced by Nigel Jamieson through Multiple Spinifex Group. In 2013 Rachael co-ordinated Hilal Dance Australia's 10 Year Anniversary, performed Alkimia with the Hilal Dance Company Tanzhaus NRW Dusseldorf, performed a site specific work for the DAncescieNCE festival CSIRO and choreographed for the Canberra Dance Theatres 35th anniversary showcase at the National Multicultural Festival. In 2011 and 2012 Rachael joined the Hilal Dance Company in the development and performance Alchemy (Alkimia) after securing consecutive Artist in Residence opportunities with Belconnen Arts Centre (BAC). Rachael's work was included as part of the local program in 2011. In 2010 and 2011 she choreographed and performed with Hilal Dance Australia at the Illawarra & National Folk Festivals and Fragments at the Ballet Russes Exhibition at the National Gallery of Australia.
Prior to training in Hilal Dance, Rachael choreographed and directed middle eastern dance productions at Tilley's, the School of Art and the Canberra Courtyard Theatre as well as participating in performances for the theatrical productions A Midsummer Night's Dream (the National Shakespeare Festival), the Wandering Nightingale by Jamshid Malekpour (Multicultural Festival), and Splinters production of Faust. Rachael has also choreographed for and performed at key events such as the Multicultural Festival, Floriade, the National Folk Festival, media launches for Ausdance Dance Week and the opening of the Canberra Museum and Gallery. Rachael was invited by the Egyptian Embassy to develop works and perform with Egyptian troupe El Tannoura.
Rachael believes in dance being a lifelong practice and continues to expand and consolidate her knowledge of body integration and training in Hilal Dance through attending Hilal Dance workshops in Australia and abroad.
Rachael started training in Zumba in 2012 and gained her Zumba instructors qualification in 2015. Rachael works as a freelance Zumba teacher.
Rachael continues her own training through workshops and classes.