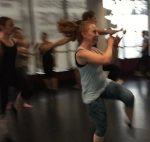 Contemporary
Contemporary
Contemporary is a dance form that grew and evolved with modern art movements. It has less strict form than ballet and exists in the 'now' with many personal expressions of form and possibility.
Contemporary is incorporated into the training and repertoire of many dance schools and companies throughout the world. It is the training for many Australian independent dancers.
Expect to work on the floor, standing and travelling. As in a ballet class, there is likely to be a focus on alignment and precision of movement, but with much more movement of the spine. Content may focus on movement concepts like giving into gravity, and use of effort; also qualities of movement.