CDT encourages artists to develop projects at CDT through space residencies. Classes may also be used to develop collaborative works, through the GOLDs, the performers from the Fan class, or other dance classes.

Have an interesting idea? Get in touch. It's how CDT started.
Who have we helped recently?
Will and Irina are rehearsing in the studio for a new film. You can see a sample of their work here, and on their website www.willandirina.com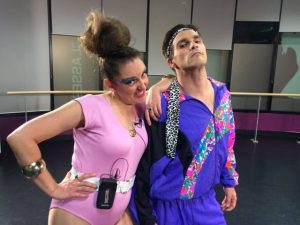 Claire Granata and Nick Delatovic presented Aerobicide at the You Are Here Festival with a CDT space grant to rehearse and a definite sense of humour.
"TotalSpray™ presents the complete wellness solution for the party crowd! Lifestyle/Microwave Cooking Guru Amelia de Frost and Electro-Punk Spiritualist Babyfreeze will demonstrate the effectiveness of the Aerobicide system by partying with Extreme Wellness for three-hours non-stop! Join them in the dance health revolution of having it all!
Aerobicide: Feel Good is a performance art installation that you can dance along to. You'll enjoy watching the performers succumb to the physical and existential toll of modern wellness culture, set to a pumping set of mutant dance-pop classics by the acclaimed Dead DJ Joke."