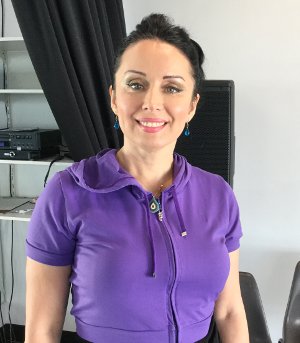 Sevinj Huseynli
Ballet
Sevinj was born on May 1972, in Baku the capital of Azerbaijan where the fine arts is a national treasure. Sevinj was part of an artistic family. Her father was the artistic director of the famous Jangi dance ensemble of the state, which performed internationally and locally and was widely acclaimed. At the tender age of 16, Sevinj began her training at the Azerbaijan State Ballet School for 8 years. She began performing at the very ensemble her father was directing at the time. While enthusiastically dancing in different ensembles she obtained a position in the Russian Academy of Theatrical Arts in Moscow. After completing her degree in Moscow, she studied her master's degree at the Azerbaijan Academy of Fine Arts.
In her journey of 29 years as a dancer  Sevinj has performed Azerbaijani dances, which are considered national treasures, with the Baku State Dance Ensemble; and also as a soloist for the state and has been the principal dancer, performing many dances such as the "Jeyran" and "Turaji" and "Jangi"; and choreographed many other dances dances that capture the history and culture of one of the Easts great empires and people, the Azerbaijanis. She has reached the pinnacle of expertise and professionalism in performance and choreography of Azerbaijani and regional dances. Sevinj effortlessly executes the most delicate and subtle movements of the dance with the utmost allure and beauty.
Sevinj has performed representing Azerbaijan in Moscow, St. Petersburg, Kyrgyzstan, Kazakhstan, Uzbekistan, Tajikistan, Astrakhan, Perm, Ukraine, Minsk, Novosibirsk, Yekaterinburg, Europe-United Kingdom, Italy, France, Germany, Hungary, Turkey, Austria, Sweden, Norway and  USA, Canada, Australia, China, Japan, Korea,  Morocco, Egypt and many other big and small cities and countries.
Sevinj has been awarded the title of Honoured Artist in 2008 which awarded to artist who reached the highest level of achievement for their country and have devoted their lives to the national treasures. She has also won the presidential award of state artist and has been a special solo performer in major national events such as opening of Eurovision in Azerbaijan and has had significant role in the choreography of National and International events in Baku. The wealth of knowledge and experience and technical expertise in Azerbaijan and world folk dance as well as classical ballet, that she has attained through her career, are available for the Australian public to experience the grace, elegance while she is residing her in our nation's capital, capital for the next 6 months. Sevinj can train dancers of any age including gymnastic to young age and the more specialised Ballet, and the international Folk-dance specialising in Azerbaijani Folk Dance.