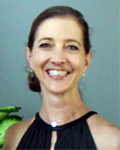 Kylie Hunter
Kylie has been teaching dance for over 30 years and has been an active member of the Canberra dance community throughout this time. She was ballet school Principal and Artistic Director of the National Capital Dancers from 1997-2012. She has been a Board Member for both Ausdance ACT and QL2 Dance and has also worked as a Peer Assessor for ArtsACT.
Kylie has taught ballet to gymnasts at the Australian Institute of Sport, movement studies to opera singers at the Canberra School of Music and has run teaching methodology workshops for staff at the Practice Performing Arts School in Singapore. She is currently teaching classical ballet classes at QL2 Dance and studying Iyengar Yoga.
Kylie began her dance training at the Bryan Lawrence School of Ballet and later at the Australian Ballet School in Melbourne. On returning to Canberra, she completed her teacher training in the Karin System of Ballet Training under the guidance of Janet Karin OAM. This combined with studies in Sports Science has led to an ongoing fascination with anatomy, kinesiology, imagery and dance.
Kylie's classes are underpinned by a love of music and movement. She uses imagery and an understanding of anatomy and dance kinesiology to help her students access classical ballet technique safely and successfully. A firm believer that dance is for everyone and should be enjoyed over a lifetime, she enjoys sharing with Canberra Dance Theatre.