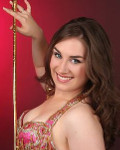 Kirsty Duncan
Belly Dance
Kirsty is an established Canberra dance artist specialising in performing arts of the Mediterranean and Middle East. She is recognised within the Canberra region as an expert in her field and a dynamic and versatile dance. Since discovering the art of belly dance as a teen, Kirsty has maintained a lasting dedication and passion for the dance. A passion that has led her to not just study with master teachers but to also dedicate her academic study to the history, culture, languages, and politics of the dance. After travelling to Turkey in 2008, Kirsty majored in Turkish language at the Australian National University and dedicated her Honours thesis to impact of colonialism and globalisation on belly dance in Egypt and the United States.
This experience and knowledge has seen Kirsty become an experience performer. She secured a place as a finalist in Amera's Palace Belly Dance Star Awards (2010), danced alongside Turkish pop starts Fatih Urek and Tanyeli (2011), and has appeared as a guest artist with the prestigious Hathor Dance Theatre numerous times including the Bozenka Show (2011), Hadia Showcase (2014) and Aziza (2015). Kirsty was the first dancer in Australia to premiere Azerbaijani folkloric dance, debuting first with famous singer Yaqub Zurufcu (2013) and has since had the privilege of training and performing with Sevinc and Elnur of the Azerbaijani State Music and Dance Ensemble (2015, 2016). Her authentic, vibrant style and knowledge of Middle-Eastern cultural traditions has made her a favourite for many Middle-Eastern weddings and celebratory occasions within the Canberra region. Kirsty specialises in Egyptian oriental belly dance, Roman Havasi (Turkish romany dance) and Greek folk and belly dance. Kirsty is able to tailor performances to suit many cultural backgrounds including Persian, Greek, Lebanese, Egyptian, Emariti and Turkish.
Kirsty's dance tuition first began in her teens with Western theatrical styles including ballet and contemporary dance. As her dancing progressed she undertook training with national master belly dance instructors including, Jrisi, Rose and Seda as well as international masters Dina, Bozenka, Hale Sultan, Jillina, Caroline of Cairo, Sabrina and Hadia. This has led Kirsty to develop a teaching style that places strong emphasis on feeling, musical interpretation and having fun. By combining various techniques learnt from master teachers and Kirsty's knowledge of Middle-Eastern culture and politics, students are equipped with a solid grasp of belly dance basics and safe dance principles allowing them to progress to a more complex movement repertoire. In teaching this way, students are able to express themselves fully with ease and joy of movement while building knowledge and respect for Middle-Eastern culture and music. Students also have the opportunity to hone in on specific styles of belly dance with one-one-one tuition with Kirsty from Turkish, Persian, Egyptian, Azeri, Emariti and Lebanese styles of social dance.
Kirsty is a certified OPAcize™ Greek dance fitness instructor and member of Raks Zahirah Dance Troupe, a professional belly dance troupe founded by Canberra belly dance expert and owner of Bedazzled Bellydance, Jacqui Princi. She is also the resident dancer at Saffron restaurant in Kingston where you can see Kirsty perform every Saturday night and watch her expertise and love for the dance come to life!