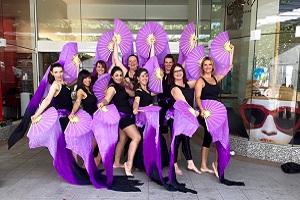 Fabulous Fans & Veils
Fabulous Fans & Veils
This is Jazida's 10th term of teaching fan dancing at the Canberra Dance Theatre and for the first time, the classes are being moved from Tuesdays to Thursdays
www.jazidaburlesque.com/Fan-Veils
With a rolling schedule of feather fan and fan veil classes Jazida is back teaching fan veils!
Term 1 (starting 1 February 2018) = Fan Veils
Term 2 (starting 16 April 2018) = Feather Fans
Term 3 (starting July 2018) = Fan Veils
Term 4 (starting October 2018) = Feather Fans

These classes run every Thursday at 7:30pm (with the first class kicking off on 8 February 2018). These are open classes, so anyone can join any time (no need to register for the whole term). Payment per class is made on arrival, or you can choose to buy a dance card for a slightly reduced cost per class. The standard cost is $22 per class (https://canberradancetheatre.org/members-and-class-costs/).
Silk fan veils are a hypnotic and extravagent prop that can dramatically enhance performances with a whirl of colours!
Jazida (who was awarded the title of "Miss Fantastic 2016" for being the best fan dancer in the Miss Burlesque Australia competition and who also holds a series of other awards) is known for her use of silk fan veils and she will share her tips and techniques on using these props with showgirl style!
Learn a variety of tips, techniques and exciting combos. We'll explore single, double, open and closed fan work to help build strength in the core, wrists, arms, back; increase flexibility; and develop musicality.
Classes are suitable for complete beginner to those with experience looking to finesse their existing skills.
What to wear: clothing that allows you to dance and move freely without too much excess fabric around your arms (best to street clear or baggy sleeves and very loose tops)
What to bring: Fan veils if you have them (if not, Jazida has spares to loan to students during class)
Past terms of this class have taught choreographies that have gone on to perform across Canberra and Australia (featuring in Darwin and Newcastle)! Jazida has also been booked to share her fan veil skills in workshops across Australia. But most importantly… classes are loads of fun with a lovely group of people in a very supportive environment!
"Jazida is an amazing performer and an amazing teacher. I attended her fan veils classes and found her warm personality and absolute passion for dance made for an wonderful atmosphere in class. She is patient, able to explain things so they're easy to understand and genuinely cares that people are enjoying themselves. She can adapt her teaching style to all levels and makes sure everyone feels like they have achieved something in class."
"Not only is she a phenomenal performer, but her Fabulous Fan Veil classes at Canberra Dance Theatre are so much fun. She breaks down the moves so that we pick them up relatively quickly, focusing on technique to ensure we perform the moves well with good musicality. I love the music choices and always come away feeling energised (and having had a great workout)."
"Thank you for tonight's Fabulous Fan Class at Canberra Dance Theatre. After a challenging and cold, ol day I was temped to go home, but I went to fan class and I'm so glad I did! It was fun, challenging and made me feel alive. Such a great class with a wonderful bunch of fellow students and an awesome teacher who explains movements really well. Thank you! You made my Tuesday xox"