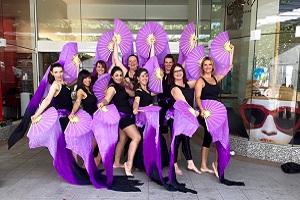 Fabulous Fans
Open fan veil classes welcome anyone keen to have a bit of fun! Just bring yourself on any Tuesday during school terms at 6pm and Jazida will provide you with fan veils to use in class. Learn the art of silk fan dancing with Canberra's most acclaimed fan-veil-dancer – dubbed locally as "the queen of fan veils"! Title holder of "Miss Fantastic" for being the best fan dancer as part of the Miss Burlesque Australia competition in 2016 – Jazida will share some of her tip and techniques for using these props with showgirl style. You'll leave class feeling energised and happy and make wonderful friends.
Each class is broken down into a cardiovascular warm up, a specific warm up (for hands, wrists, arms, upper back and other key muscle groups activated in the choreography), a thematic warm up (which is like a mini-choreography which we do every week to drill common fan veil movements for conditioning) and then we launch into a combo for the week (the combos are strung together across the term in to a choreography) finally we close the class with a relaxing and interactive cool down.
In class, we examine fan grip technique, isolating muscle groups, working with both open and closed fans, working with partners/groups and solo and work with musicality and modifying aesthetic to tell a different story. Come along! It's so much fun! What to bring: Fan veils if you own them (if not, it doesn't matter – Jazida has plenty of spares for everyone) What to wear: comfortable clothes that allow you to move (we recommend avoiding baggy long sleeves, as they can get caught in the silk). Students who attend class are welcome to join in several performance opportunities at the Multicultural Festival, Enlighten and much more!