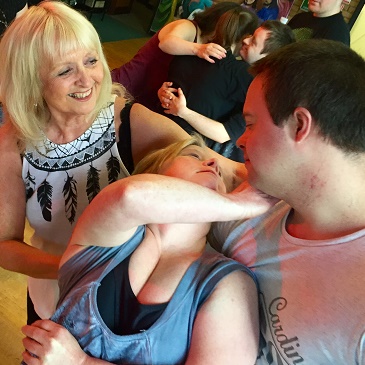 January: Carol Brown Choreographic Workshop
GOLD
Canberra Dance Theatre is delighted to host a choreographic workshop to be taught by internationally recognised dance artist Carol Brown. Carol will be teaching one of her dances to members of GOLD. This is an opportunity for new people to join GOLD or for out-of-towners to work with the company and with Carol.
About the workshop
Carol will be restaging a dance based on the Dylan Thomas poem 'The Force That Through The Green Fuse Drives The Flower'. The work is about our connection with all things in the universe through the force of energy that permeates everything. The workshop will conclude with an informal showing of the work. Other opportunities to perform the work will be available throughout the year. There is no expectation for interstate participants visiting Canberra for this workshop to be available for these performances, but of course you are always welcome.

About participating in the workshop
The workshop is designed for people aged 55+ who are able to move independently and without mobility aids. For this workshop, prior experience in dance is essential.
Prior experience in dance is not necessary to join regular GOLD classes. See canberradancetheatre.org
About Carol
Carol is a renowned freelance community dance artist, consultant, facilitator, trainer, choreographer, producer, presenter and lecturer, based in Wales, UK. She has led community dance in the Swansea Bay area for 30 years, creating countless productions on professional and community casts of up to 300 people in community settings, theatres and on television.
Carol was a finalist in Welsh Woman of the Year for her pioneering work in male dance. She is the founder director of the award winning Dynion Male Dance Company who have toured to 11 different countries. She has worked in Europe, Africa and Asia Minor including on the Adugna Project street children in Ethiopia. She has instigated and organised cultural exchanges for Welsh groups with partners in Germany, Lithuania, Uganda, South Africa Spain and Scotland. She recently set up the Troy Boyz company who perform street dance to Greek classics and the Dragons Heart & Dragons Soul Company of diverse capacity artists who dance meaningful full length pieces unaided by volunteers.
Dates
7 days starting Wednesday 17th and finishing Thursday 25th January (excluding Saturday 20th and Sunday 21st)
Times
10.00 – 3.30pm daily
Each day will comprise of a dance technique class followed by rehearsal
Cost
$300 for the workshop
Numbers are limited. To secure your place, full payment must be received by Monday 8 January.
For more information contact CDT
Email canberradancetheatre@gmail.com
Phone 0435 025 365